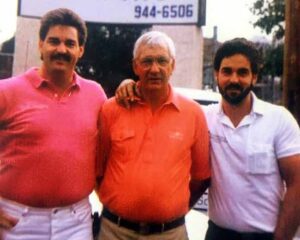 Scott Roofing Company started out in 1982 when Jesse Scott's flat roof needed major repairs. Since he couldn't afford to hire a roofing company, he decided to fix it on his own. His two sons Brian and Mike pitched in. They rented a hot kettle, and installed a new hot asphalt built-up roof.
A few months later, Jesse sold the family boat, bought a 1968 Dodge pick–up truck, and started Scott & Son's Roofing. Humble beginnings sprouted from the necessity to keep water out of the house and protect the family!
Who would have known that 38 years later Scott Roofing Company would grow to be the leader in residential roofing here in the Phoenix Valley and across the state of Arizona!
Jesse Scott passed away in 2004. CEO Brian Scott and president Mike Scott share the inspiration that Jesse was to them.
"Although our father is no longer with us, the family business has grown beyond our expectations. The basic core fundamental business philosophies he instilled in us are still the driving force in our business today. We attribute our success and longevity to these simple philosophies; Take care of your customers and your employees and your business will take care of you. You know we still pride ourselves on taking care of our customers and our employees today. It still remains the cornerstone of all of our achievements. In the years to come we will continue to grow and thrive because of this thinking".
Scott Roofing Company has served more than 46,000 customers and has grown 10 times over since its inception when Jesse, Brian, and Mike installed their first roof in 1982! Of their many awards over the years, the latest is Ranking Arizona's prestigious Roofing Contractor of the Year for the past decade 2008 to 2020. When you choose Scott Roofing Company you choose honesty, integrity, values and longevity.